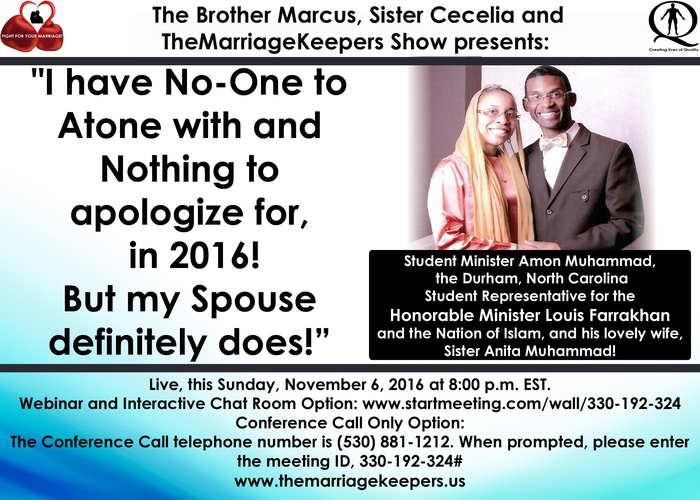 Facebook link to this show:
www.facebook.com/events/145173455953867
God willing, this Sunday, November 6, 2016, at 8:00 p.m. EST., please join your Marriage and Relationship Servants, Brother Marcus, Sister Cecelia, and TheMarriageKeepers as we welcome Student Minister Amon Muhammad the Durham, North Carolina Student Representative for the Honorable Minister Louis Farrakhan and the Nation of Islam, and his lovely wife, Sister Anita Muhammad, to the show for the first time! On this show we will confront, "I have No-One to Atone with and Nothing to apologize for in 2016! But my spouse definitely does!"
You can participate in our live show for free. You will want to listen in to this show! How you can access the Live Show this Sunday, November 6, 2016, at 8:00 p.m. EST.:
Webinar and Interactive Chat Room Option:
www.startmeeting.com/wall/330-192-324
Conference Call Only Option:
The Conference Call telephone number is (530) 881-1212. When prompted, please enter the meeting ID, 330-192-324#
Abstract / Objectives of this Discussion:
This topic is rated (S) for Singles and (M) for Couples in the process of marriage and (P) for all Parents trying to understand the Children we have produced.
How many people feel that they should receive an apology from someone but they don't feel they owe any one any apologies? How come we are plainly able to see everyone else's wrongs that they have committed against us but none of what we have done to others? Are we able to give our spouses and / or our children a straight apology with no commentary, explanation or justification? Why must atonement take place between us before we can move on to forgiveness? Atonement means to make amends and reparations for the wrong. Can we recognize the wrongs that we have committed in our marriage if our spouse points it out to us? Why is forgiving each other divinely commanded as we struggle with ourselves and as we struggle to build righteous character as we move toward the liberation or our people? What will happen to us if we can't forgive each other?
If you would like to take the opportunity to learn this very important Advanced Relationship and Parenting Skill that we will share by the grace of God this weekend then please join us for this very fascinating dialogue! Our aim is to always support you in your desire to become better future Husbands, Wives and Parents in 2016. In this show, Brother Marcus and Sister Cecelia and our panelists will re-share truly profound, wise words from the Honorable Minister Louis Farrakhan from previously written articles that have appeared in the Final Call Newspaper and from his vast catalog of lectures and speeches that he has delivered throughout the world on the topic of Marriage, Parenting and Family Restoration!
Facebook link to this show:
www.facebook.com/events/145173455953867
Please like both of our new Pages on Facebook and our Main Website:
(1)
www.facebook.com/the6thAnnualNationalMarriageRetreat
(2)
www.facebook.com/lovingandhealinghandsmassage
(3)
www.facebook.com/Themarriagekeepers-467098296793598
(4) Our products and services:
www.marcusandcecelia.com/Products.php
Call 770-256-8856 for any of the above mentioned services
(5) To see all of the photos from the 2016 – 6th Annual National Marriage Retreat in Atlanta, Georgia, please visit:
www.facebook.com/brothermarcus.peace/media_set?set=a.87154280964476...
***** Donations *****:
Please be kind and make a generous love offering to help us in the tremendous work we are striving to do in 2016. It would be very appreciated and God will bless you for helping us. Please click this link to donate:
PayPal.Me/strongmarriages
Action Items For Our Other Magnificent Events and Programs:
(1) *** Farrakhan Must See TV / Clip of the Week!: Part II of The Hon Louis Farrakhan's lecture from the HDOA! Please watch the full replay: Minister Farrakhan speaks on Donald Trump, Hillary Clinton & Election 2016:
http://www.noi.org/webcast1030
Also see:
*** Minister Louis Farrakhan's Million Man March 21st Anniversary Address in Atlanta, Georgia on October16, 2016
https://www.noi.org/webcast1016/
The Minister also recently spoke at Union Temple Baptist Church in Washington, D.C. Here is a clip from his powerful message. In it, he discusses Hillary Clinton and Donald Trump: Will you be voting for the lesser of two very evil people? Which one is worse: Lucifer, Satan, or The Devil?
https://www.facebook.com/OfficialMinisterFarrakhan/videos/109494234...
For Insight into world events follow the Minister Louis Farrakhan. @LouisFarrakhan (on Twitter) and get Divine Guidance in these troubling times.
Please help the Nation of Islam to spearhead the liberation of the oppressed. Visit our websites for to make a donation as we intend to do more for our communities and for the poor and disenfranchised who suffer abroad. Please make a tax-deductible donation. Visit our National Website for more information:
www.noi.org/donate
Please check out these other Official Websites of the Nation of Islam:
www.noi.org
www.finalcall.com
www.economicblueprint.org
(1a) The Final Call Newspaper: The Final Call Newspaper makes a terrific gift of knowledge, wisdom and understanding. Order a subscription by calling our toll free order number 866-602-1230 or online at:
www.finalcall.com/subscribe
For the digital subscriber option, please visit:
www.digital.finalcall.com
(2) Isagenix International, LLC is a multilevel company that markets supplements and personal care products that are solution based and aid in weight loss, energy and performance, youthful aging and wealth creation. Go to
www.isamovie.com
and then call Brother Marcus at 770-256-8856 for more information. We can help you to receive a huge discount. Isagenix has real health solutions to help you rid yourself of the poisons / toxins in your body in 2016. These products are outstanding and they have helped us greatly to reach our weight loss goals as well as rid ourselves of high blood pressure.
(3) The Wali Marriage Counseling Services:
Our Wali Marriage Counseling Services are available for all couples who need an impartial couple to not only hear the problems that they are experiencing in their marriage. You should not even consider divorce before reaching out for these valuable services. Please call 770-256-8856 to set up your appointment with us. To learn more about bringing Brother Marcus and Sister Cecelia into your city to conduct their signature Marriage Empowerment Workshops and Singles Success Seminars, please call us or email us at: marcusmuhammad@hotmail.com
Our New Books:
Get our new book, "Universal Marriage and Relationship Tips".
https://www.createspace.com/5855232
Our websites:
Websites:
www.marcusandcecelia.com
/
www.themarriagekeepers.us
Our Professional Massage Services:
www.facebook.com/lovingandhealinghandsmassage
Our Services for Head Starts & Day Care Centers:
www.marcusgirard.net
Phone: 770-256-8856
Email: marcusmuhammad@hotmail.com
Our Social Media Presence:
Facebook:
www.facebook.com/brothermarcus.peace
www.facebook.com/marcus.aaron.393
https://www.facebook.com/cecelia.muhammad.7
www.facebook.com/5thannualmarriageretreat
Twitter:
www.twitter.com/brothermarcus
www.twitter.com/SisterCecelia1
Instagram:
www.instagram.com/brothermarcus
About the Brother Marcus, Sister Cecelia and theMarriageKeepers Show:
Brother Marcus and Sister Cecelia Muhammad are active, registered believers in the Nation of Islam and attend Muhammad Mosque #15 under the leadership of the Southern Regional Student Representative of the Honorable Minister Louis Farrakhan, Abdul Sharrieff Muhammad. They have been in the process of marriage for the last 24 years. The Brother Marcus and Sister Cecelia Show is one of the only platforms the Nation and our people have to talk seriously about Marriage, Relationships and Properly Parenting our children in 2016. Our shows are exclusively designed for couples in the process of marriage as well as single people who still desire marriage. The purpose of the show is to help both men and women to line their lives up with the standard of God and make His thoughts and ways the centerpiece of our marriages. This particular show represents our 162nd Internet Radio Show in service to the Honorable Minister Louis Farrakhan, His National, Regional and Local, Laborers and other concerned Christian Pastors and Preachers. We wish to promote positive and healthy marriages in our communities and to stop the obsession with divorce among our people! We are striving very hard to use God's airwaves constructively and offering 'free, online marriage counseling' that help to aid us all in becoming character filled, valuable final products! We absolutely love to serve and to minister unto you, and to learn from you and we strive very hard to specialize in discussions that are worthy of discussion!
Facebook link to this show:
www.facebook.com/events/145173455953867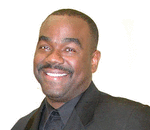 Posted By: Brother Marcus!
Friday, November 4th 2016 at 1:50PM
You can also
click here to view all posts by this author...