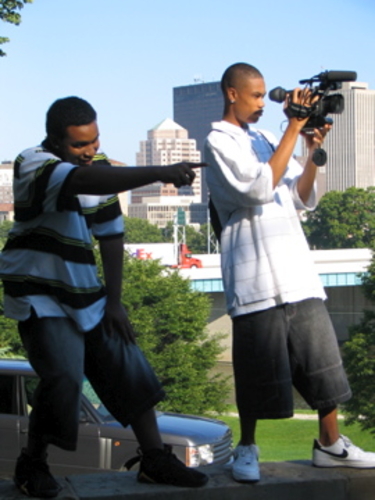 It's time that our youth, who are so technologically advanced, be giving the opportunity to showcase their talent and skills.
Gone are the days of the Mickey Mouse Club and other youth programs seen on PBS. Now our youth come home to Jerry Springer and Maury and BET (Black Evil Television).
We must create positive TV programs for our youth.
In warfare, one of the deciding factors in who will win is who has air superiority. The TV is a tool used by the enemy to condition, train, manipulate and ultimately control the actions of our youth. We know those actions are not positive, productive or healthy. Our youth are being set-up by the masters of mind manipulation for self destruction.
I, with the help of Allah and the teaching of the Honorable Elijah Muhammad as taught by the Honorable Louis Farrakhan, plan to work against that form of social engineering. My non-profit organization, Knowledge for LIFE has produced a positive program called: Youth Expo Show aka YES TV. Check it out and support it with a generous tax deductible donation.
Youth Expo Show aka YES TV
features on our first show:
K12 Art Gallery
. A museum that teaches inner city youth creative arts.
Serious Young Musicans (SYM)
- Founder Tumust takes time to talk with us about how the SYM came to be.
Dr. Shannetta Sutton
explains the importance of Dental health for young people.
Help K4L raise $6,000.00 by June 1st for YES TV's Summer Camp. Donate, $5, $10 or $100 to YES TV today! YES TV's Summer Camp teaches innercity and disadvantaged youth 11-17 skills in multimedia (TV production, Website Design, and Radio).
Your donation is tax deductible and appreciated.
Chipin is a secure way to donate and be counted. Thank you for your supporting a positive youth program.
Posted By: Steven Muhammad
Sunday, April 19th 2009 at 10:34PM
You can also
click here to view all posts by this author...