Nation of Islam and those who support the Nation of Islam under the guidance of the Honorable Minister Louis Farrakhan. Any questions contact me at 937-985-0779
Join with me, Steven Muhammad, to show love and appreciation to the Honorable Minister Louis Farrakhan for his 63rd year of service in the form of a Saviours' Day Gift.
Please make a generous donation to the Minister's Saviours' Day Gift that will help him continue his great work.
Here is the secure link https://tnp.noi.org/sddonations?id=5355&name=Steven Feel free to select from the donation levels listed or contribute an amount that is comfortable for you.
Thank you in advance for your support and may Allah (God) continue to bless you. Donate $50 and receive your choice of a copy of:
* Message to the Blackman in America
* Our Saviour has Arrived
* Fall Of America
* How To Eat To Live 1 or 2
Thank you for showing your love and appreciation for the man who has shown us uncompromising love for 63 years. Any questions contact me at 937-985-0779
Sissy's Best Bean Pie No preservatives Healthy & Delicious
Sissy's Bean Pies - Dayton pickup only
">
Muhammad's NOI Network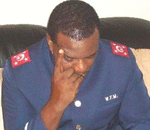 Maurice Muhammad has been a member of Dayton's NOI Network since Sep 14th, 2008. Maurice represents University of Wisconsin-Madison class of 2011 and is located in the madison, WI area. You can connect with Maurice Muhammad and other interesting members of Dayton's NOI Network by signing up or logging in.
More About Us...


Muhammad's NOI Networking site is dedicated to unifying, organizing, and mobilizing members in the Nation of Islam and those who support the Nation of Islam under the guidance of the Honorable Minister Louis Farrakhan. Any questions contact me at 937-985-0779

Join with me, Steven Muhammad, to show love and appreciation to the Honorable Minister Louis Farrakhan for his 63rd year of service in the form of a Saviours' Day Gift.

Please make a generous donation to the Minister's Saviours' Day Gift that will help him continue his great work.

Here is the secure link https://tnp.noi.org/sddonations?id=5355&name=Steven Feel free to select from the donation levels listed or contribute an amount that is comfortable for you.

Thank you in advance for your support and may Allah (God) continue to bless you. Donate $50 and receive your choice of a copy of:

* Message to the Blackman in America

* Our Saviour has Arrived

* Fall Of America

* How To Eat To Live 1 or 2

Thank you for showing your love and appreciation for the man who has shown us uncompromising love for 63 years. Any questions contact me at 937-985-0779

 

 

 

Sissy's Best Bean Pie No preservatives Healthy & Delicious

Sissy's Bean Pies - Dayton pickup only